Gareth Southgate's England team may not have picked up the World Cup Football trophy this Summer but one of our clients, John Hickling, had something to celebrate when he picked up a bottle of bubbly for correctly naming the England World Cup 1966 player.
Congratulations to John who correctly named former 1966 World Cup England mid-fielder, Sir Martin Peters, in the photograph taken outside the former Insurewise's offices based in Lincoln Road in 1995.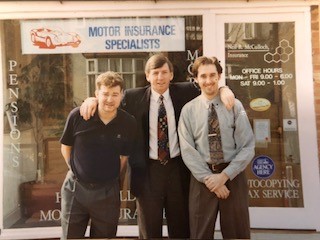 Sir Martin Peters enjoyed a successful football career playing not only for the World Cup winning England squad but also for West Ham United, Tottenham Hotspurs, Norwich City and Sheffield United.
Neil McCulloch, MD, said "I remember the day Sir Martin Peters visited our office as though it was yesterday. He was an absolute gentleman and happy to share some of his football memories with myself and my colleague, Glen McCulley and to have his photograph taken with us. "
Congratulations to John, who was also enjoyed playing football until he finally hung up his boots and turned his sporting enthusiasm to the game of golf.  We hope he finds the right occasion to open his bottle of champagne to celebrate his win.