Work experience is a great way for young people to gain an insight into business and, hopefully, inspire them to progress into a career that is right for them when they leave full-time education.
In July 2019, we took on a work experience student.  Here is his story.
My time at Insurerwise Ltd  
My name is Archie and I'm currently in the 6th form at Arthur Mellows Village College studying for my Foundation Diploma in BTEC Business Studies. I contacted Insurewise Limited for my Work Experience programme as I thought working for a small organisation with a national client base would give me a good introduction of how a business works to support my academic studies. In addition, I previously heard in the past that Insurewise are renown for providing a professional personal service which helped me develop optimal communication and confidence skills as they overviewed how they delivered these skills to new and existing clients.
Insurewise was first established in 1983 and provides a wide range of products for commercial and business clients including fleet insurance, public liability, vehicle insurance for its clients. It specialises in Children's Care Homes and High Net Worth property insurance. Last year they celebrated 25 years in business.
Day 1: Monday
On my first day working for Insurewise Ltd, I was very nervous about entering the premises due to the fact I had never worked in an office environment before.
I arrived at the office just before 9am and I was introduced to the members of staff.  I then spent time with  Mandy Kisbee (Commercial Director) and she went through my schedule for the week designed to help me learn about different aspects of the business and what the different team members do.  She advised me to have pen and paper or a laptop at hand at all times to record notes for future reference.
The first activity I participated in on day 1 was an overview of how the Commercial Director (Mandy Kisbee) operates within the business. She taught me how she completes renewals and the functions of specific factors, for example, compliance, policies and the business's revenue and profit.
Later during the day, Mandy explained to me how they recruit people at the workplace. She said Insurewise use targeted vacancy websites to recruit specific skills and experience. The reason they do this is so they can reach out to people that have experience or a degree in insurance, unlike other job websites, such as Indeed . This saves the company time and money further down the recruitment stage such as shortlisting and interviewing.  All members of the team are involved in Continuing Professional Development.
After we had discussed the recruitment process within Insurewise, she asked if I had any questions about the process. I asked her if she could give me any advice or guidance for my CV as I felt that it needed a professional eye over it. With her help and advice, I amended my CV to make it more professional and appealing to future employers.
Day 2: Tuesday
On Day 2, the first thing I did when I arrived at Insurewise was attend a meeting with Sara and Neil to discuss a care home and supported living enquiry they received from a prospective new client. This meeting gave me insight into the proposal form process, which is essential within the business I learned skills I could develop for the future from watching Neil during the meeting. For instance, he showed great body language as well as excellent communication skills when addressing some key points with Sara.
Shortly afterwards I attended another meeting between Neil and Amy to discuss High Net Worth Household insurance.   Similar to the previous meeting between Neil and Sara, I gained a lot of knowledge about types of insurance which I didn't know about.  This meeting also helped me learn more about the business and its product range, which was one of my aims of the week.
In the afternoon the marketing manager (Jackie Hall) came to the office to give me an overview of marketing within the business. This included how they spend their marketing money as a company to reach a wider audience. She showed me different software platforms that the company use for specific activities and the analytics behind them to demonstrate how beneficial a promotional activity is. For example, how much exposure a post on Facebook receives compared to another post on their profile. Jackie also went through the marketing strategy and plan with me and how she meets up with Neil and Mandy regularly, at least once a month, to review performance and discuss future activities.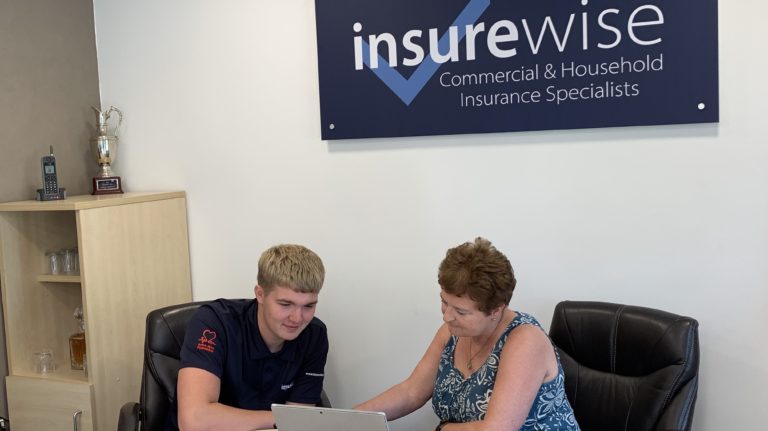 We then attended a marketing meeting in town with one of Insurewise's suppliers, Chris Lane from Artinfusion, to discuss software platforms for communications to improve campaigns and reduce costs.
Day 3:
This was a very exciting day as I visited a client with Bill in Leicester to complete a renewal with the director of a paper and plastic molding company. This trip helped me gain a lot of skills. Firstly, it gave me the an insight to see what meetings are like, which will prepare me for the future on how to prepare for one. For example, I observed how Bill uses great communication skills as well as excellent body language when speaking to the client. This is most likely why Insurewise are recognized for providing a smooth, professional service to their clients. The meeting also helped me to improve my confidence skills as I had to keep a professional persona throughout the meeting. This involved asking questions to the client about the business as well as dressing appropriately (smart workwear).
Day 4:
On day 4 I visited a client in Luton with Neil to discuss renewal terms and take photos of existing insured properties to ensure they are kept at a low risk of a claim. Likewise, to the meeting on day 3, it helped me gain a greater insight into the business and how proposal forms and other documents are completed. I got a chance to speak to the financial director of the IT company we visited and I got to ask him questions about his job role which helped me gain an even bigger insight of how the business runs. Overall, this trip with Neil helped me gain knowledge about the job and improve my communication skills during my conversation with the financial director.
Day 5:
Finally, on the last day after learning about the business and attending meetings with staff members as well as clients, it was time to learn about the roles of the administrators, First of all, I learnt about Sarah's role, she is in charge of completing and finalizing commercial renewals. She spoke about the importance of administration and why it is necessary to make sure the form is completed correctly before sending it off to the insurers.
Afterwards, I learned about Vicky's role (account administrator). It was very helpful what Vicky taught me due to the fact she demonstrated how to complete a renewal then made me do it for her on the software (Acturis). Doing this myself helped me gain a lot of confidence and hands-on experience. It was very nerve-racking at first however I got the hang of it after a while from the great support she gave me.
Overview
I really enjoyed my work experience at Insurewise and I'm confident that the knowledge and skills I gained during the week will help me with my academic studies and help me progress into the workplace when I leave full-time education.
Thank you to the Insurewise Team.