Insurewise has enjoyed a long association with Peterborough Rugby Union Football Club with members of the "McCulloch Clan" playing for the club since the 1960s.
It is with great pleasure Insurewise sponsor and supports the club in a variety of ways, including Men's 1st XV shirt sponsorship, donations towards the facilities at the grounds in Fengate, Peterborough together with other resources and time to promote the club's success.
During the 2019/20 season, Insurewise is offering players and individuals involved in the club the opportunity to earn a 5% contribution from the commission earnt from any new insurance policy taken out through Insurewise, simply by quoting Rugby5 when they make their initial enquiry by calling (01733) 325555 or emailing sales@insurewise.co.uk
Insurewise also sponsors the PRUFC Men's 1st XI Player of the Month Award during the 2019/20 season.  You'll find information on the games and the winner of the Player of the Month Award below.
Insurewise Player of the Month Award 2019/20 season
Who will win the coveted Insurewise Player of the Month awards this year?  We'll keep you updated and post photos of the successful player.
Man of the Match: September 2019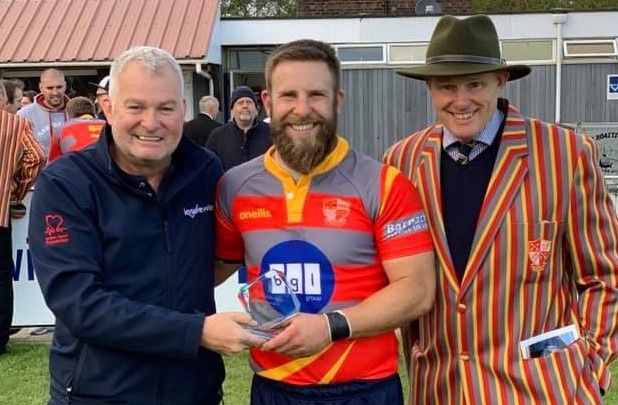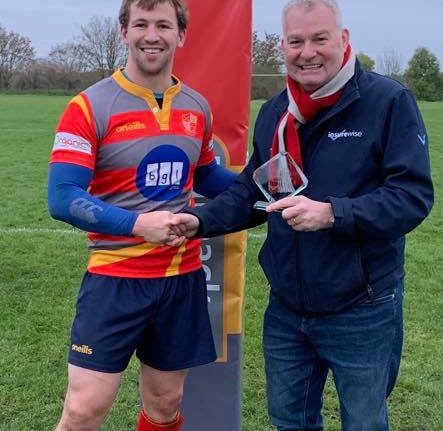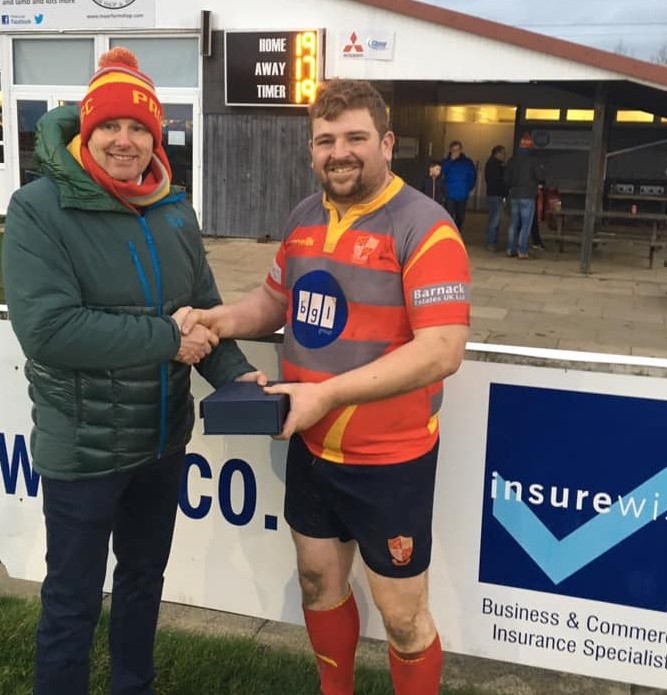 PRUFC Insurewise Player of the Month December 2019: Chris Sykes receives his award from PRUFC's President, Andrew Burgess.
Peterborough Rugby FC Fixtures 2019/20 (kick-off 3pm unless stated otherwise)
September 2019
7th Old Northamptonians 31 vs 30 PRUFC
14th PRUFC 28 vs 21 Olney
21st  Oundle 34vvs 7 PRUFC
28th West Bridgford 41 vs  35 PRUFC
October 2019
5th PRUFC 19 vs 27 Rugby Lions 
12th Syston 46 vs 18 PRUFC
19th PRUFC 29 vs 24 Towcestians
26th Wellingborough 5 vs 10 PRUFC
November 2019
9th PRUFC 11 vs 11 Derby
16th Lutterworth 27 vs 26 PRUFC
23rd PRUFC 10 vs 18 Market Harborough
December 2019
7th Melbourne 26 vs 27 PRUFC 
14th PRUFC 17  vs 28 Oadby Wyggestonians 
21st PRUFC 20 vs 10 Olney
January 2020
4th  PRUFC 12 vs 39 Oundle
11th West Bridgford 17 vs 19 PRUFC
18th PRUFC 12 vs 16 Rugby Lions
February 2020
1st vs PRUFC vs Syston
8th Towcestrians vs  PRUFC
15th PRUFC vs Wellingborough
29th Derbyvs PRUFC
March 2020
7th PRUFC vs Lutterworth
21st Market Harboroughvs PRUFC
28th vs PRUFC vs Melbourne
April 2020
4th Oadby Wyggestonians vs PRUFC
18th PRUFC vs Old Northamptonians